Back to Store section
.
Using Yahoo Auctions Japan to Buy Alien Nine Products
Yahoo Auctions Japan is basically the eBay of Japan. You can find alot of rare or obscure anime / manga items on there as well as other items.

How do I find stuff related to Alien 9 on there?
The long empty box to the left of the screen is where you can enter a search term.
I can't read Japanese!
You can use online translators. They're not 100% accurate but fine for picking out the main details / information within the auction and for translating the interface etc.
The best translator I've found is Nifty as it is a Japan-based site and therefore their free tool seems a little bit more coherent.
Instructions for Nifty translation tool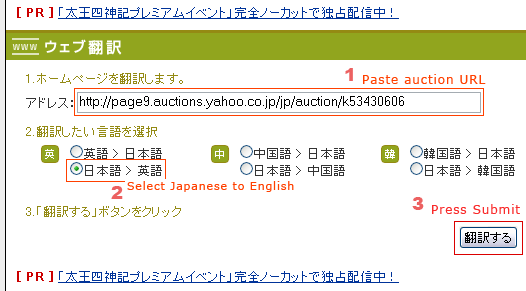 Other Translators
What is yen in my curency?
Check out
XE.com Currency Convetor
.
I found something I really want. How do I buy it?
Almost all sellers will not ship outside Japan. However there are a lot of English services that will help bid on the item and receive it at their office in Japan before sending it out internationally to you. The drawback is that they have a fee.
The usual process is to sign up for a bidding service. Check the details of their service as to how to contact them regarding the auction you want. They do the work for you in bidding, communicating with the seller and receiving the item etc. They will then pass the item on to you either automatically or upon request.
Here are a few such services:
FROM JAPAN ltd