Back to Essays page
My Character Observations - Kumi Kawamura
Kumi is a reluctant leader.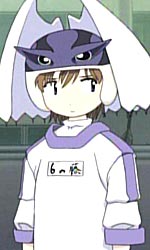 Jealousy?
Kumi states at one point that she may be jealous of Yuri. We can only guess at what she refers to. Yuri's ability to cry? The fact she seems to have both her parents? The fact that she has less responsibilities?
Unexpected Tragedy
At the end of the anime a very surprising incident happens to Kumi. This is explained more in the manga so I suggest reading that if you're curious. However alot of things in the anime seemed to be rearranged and interpreted differently with more scenes added. At first I believe there were plans to continue the anime, the producer did say he wouldn't mind making more (that didn't happen though unfortunately and it's been quite some time since the first release so at the moment it is very doubtful any more will be made...), so we can't say if he would of continued the series in a different way to the manga.
What's In Kumi's Mind?
It is interesting to consider what might of been going through Kumi's mind at this point in the story (the final episode of the anime) as she is pushed to her limits. After the Yellow Knife I believe Kumi could have been hit really hard with reality... Kasumi's brother is not dead, perhaps someday he could return to her, however Kumi's father is never coming back. She has her mother but it seems that she does not comfort her enough and only offers Kumi more concern. Kumi should of appreciated her existance more though really and not of been afraid to open up more and say Something is wrong, you can't help what you don't know. Yellow Knife could of made her realise her inner fear of loneliness in a way most people could not get through with their sanity intact, it made her finally cry. She finally allowed herself to cry. I believe that shows she acknowledged the depression hidden inside her.
Kumi was probably my favourite character though and so I would say that after reading the manga, I would prefer the manga version over the different interpretation you could grasp from the anime's abrupt end, as it would be very tragic to just leave it like that... Although I can't say I'm completely happy with how everything turned out in the manga either, heh