Back to Essays page
.
Zucchini's Observations - Kasumi Tomine
Kasumi wanted to be an alien fighter.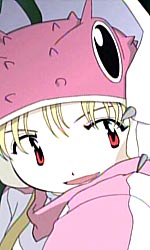 Alien Personality
I'm sorry to admit that I don't know as much about Kasumi as the other two, but I'll try to get out what I can. Some theories to why she wanted to join is because she is on crack. No, but really. Kasumi seems the type that tries to excel at everything to make up for her loneliness. Kasumi is just naturally someone who needs constant affection or self praise otherwise she would, I don't know, implode onto herself. I think her and Yuri are both very dependent, but Yuri is more willing to show it. (Kumi and Yuri are the type who like to keep their pain in on the inside, which is why they're not normal.)
Yellow Knife tricked Kasumi into thinking that he was her brother. There isn't really much to explain here -- episode 4 was pretty straight foward. Kasumi fused with Yellow Knife instead of her borg, which is why the borg was giving her trouble when she tried to put it on in volume 2. I think that eventually though Kasumi also fuses with her borg, because she can use drills.
Teh Eyebrows. They freak a lot of people out with their... burlyness. The reason why her eyebrows become so thick is because the more hair on Kasumi's head, the more effective her sonic attack is (There are little antenna in her eyebrows.) And I guess the creator decided a beard and a mustache wouldn't be very becoming on Kasumi.
In episode 4, when Kasumi is with the dead Kumi, its not because she killed her. Kasumi's senses were heightened since fusing with Yellow Knife, so shen the aliens arrived and killed Kumi, Kasumi arrived because she could sense the aliens. And Kasumi wasn't too upset, because she is an alien (for the most part) and doesnt think death is final.
I'll have to read more into Kasumi's character before I can say anymore. But til then...
Welcome to the Alien party Kasumi. We know you'll love it.