Manga book summaries and release details
If you're interested in buying the DVDs, books or anything else then you can find some places to purchase them in the Store section.
Book Releases:

4

Author:

Hitoshi Tomizawa
Click on one of the small thumbnail images to view the full front cover for each book.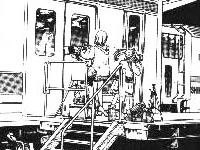 Book 1:
Chapters: Yuri, Kumi, Kasumi, Ms. Hisakawa, A Chain Attack, Alien Keeper, Hyper Growth, Summer Vacation, Second Semester Begins
In the future alien invasion is a daily occurrence and everyone must be prepared. Elementary School 9 has assigned three students to fight off the extra-terrestrial threat. From Hitoshi Tomizawa, the creator of the Alien Nine video series. Alien Nine is the perfect combination of cute manga style characters and creepy monsters!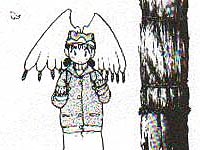 Book 2:
Chapters: The Yellow Knife, Incision, All Alone, Rescuing Kasumi, The Kumi Incident, Reconstruction, The Yuri Incident, The Forest of Spaceships, Gushing Out, The Market
Cute, spunky, Alien Fighters! It's the second semester, and Yuri is handling the pressure of being in the Alien Party a little better now...but not much. Aliens keep dropping from the skies, and they're getting more ferocious with every wave! Where are they coming from, and why does the school depend on sixth grade girls to fight the vicious beasts?
One funny, shocking, and totally unique must-read - Wizard Anime Insider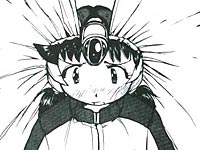 Book 3:
Chapters: Third Semester Begins, You Can't Stop Me!, Yuri The Fool, Try This Little Guy, Open The Window, Stop Interfering!, The Helper, The Alien Party, Who Am I?
Yuri's friends are very different now from when they first joined the Alien Party... and they're not about to let Yuri see the things that they've seen. How can three sixth graders possibly stand up to a daily threat of alien invasion?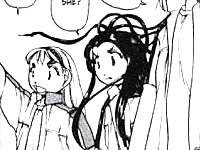 Book 4 Alien Nine Emulators:
A New World, Alien 9, Kumi and Yuri, Ultimate Symbiotes, Maybe None Of Us Are Fools
The girls have finally graduated 6th grade and now are in junior high, but are they prepared for the new challenges that await them? There is also a new girl in town and she seems to be a host for an entirely different kind of alien. Hitoshi Tomizawa is the creator of the popular Alien Nine series, which includes 4 graphic novels, as well as a full-length anime.

Japanese Manga Anthology:
As far as I can tell this is a collection of the Japanese manga. The cover is especially nice as it seems to show all the girls and their teacher at some kind of party which could be their final school prom!