Story Summary
Yuri is totally bummed. She just started 6th grade and has been elected to capture or eliminate the aliens that are constantly invading the school...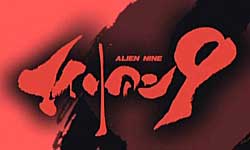 Maybe this job wouldn't be too bad, except it includes wearing gross symbiotic alien helmets that survive by feeding off the host body. Yuck!
Yuri may be scared of her new position, but she isn't alone. To help her is the energetic Kasumi and the serious Kumi who both volunteered for their positions in this strange alien party. But why would the school send 6th graders to fight the alien menace? And will their borgs be enough to help them win?!
Alien Nine is a unique story brought to life in both manga and anime form. Be sure to catch Yuri's animated adventures in the OVA, and look for more answers to be revealed in the manga!
My Sidenote: If you didn't guess already by the host stuff this animation, despite its cute look, this show does contain violence and scenes that may not be suitable for very young children etc.
Similar recommended titles
If you like the Alien Nine anime you may also like the following anime shows: