Production Details
Skip to the English Language Version
Japanese Language Version
Images from the Alien Nine Bonus DVD. The DVD features various behind the scenes footage. The Store section has tips on purchasing it.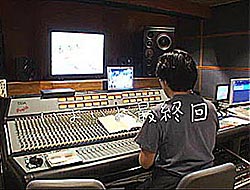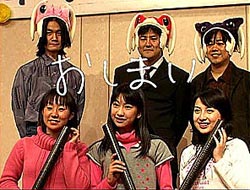 Timing screen for the voice recordings.
Some of the key members of production staff for the Japanese version of Alien 9 have some impressive credits. Including producer Taro Maki who became president of Genco animation studio. Series planner Sadayuki Murai also wrote for Cowboy Bebop and my other favourite obscure anime series, Kino's Journey.
Manga First Published In:

Young Champion Comics by Akitashote

Anime Series Released:

2001

Japanese Official Site:

English Official Site:
Role
Name
Other Work
Original Story
Hitoshi Tomizawa
Screenplay (Episodes 1 and 3)
Sadayuki Murai

Perfect Blue
Cowboy Bebop
Millennium Actress
Kino's Journey

Screenplay (Episodes 2 and 4)
Seishi Minakami

Paranoia Agent
Sugar: A Little Snow Fairy
Boogiepop Phantom (Episodes 3, 7 and 10)

Producer (Genco)
Taro Maki

Azumanga Daioh
Figure 17
Millennium Actress
Serial Experiments Lain

Producer (Genco)
Nobuhiro Osawa

Azumanga Daioh
Bottle Fairy
Figure 17
Kino's Journey

Producer (J.C. Staff)
Yuji Matsukura

Ai Yori Aoshi
Excel Saga
Nodame Cantabile
Honey and Clover and Honey and Clover II

Director (Episode 1)
Jiro Fujimoto

Hand Maid May
AD Police
Vampire Princess Miyu
Hidamari Sketch

Director (Episodes 2 - 4) and Character Design
Yasuhiro Irie

Cowboy Bebop: The Movie (Storyboard)
Macross Plus OAV and Movie (Key Animation)
Soul Eater (Opening Key Animation and Planning)
Fullmetal Alchemist (Opening Key Animation and Planning)

Creature Design
Kazunori Iwakura

Ai Yori Aoshi (Character Design
Slayers Great (Animation Director, Golem Design)
Digimon: The Movie (Key Animation)

Art Director
Jyunichi Higashi

Vandread: The Second Stage

Music
Kuniaki Haishima

Monster
Spriggan
Gasaraki
Macross Zero (OAV)

Sound Director
Yoshikazu Iwanami

Ah! My Goddess (Movie and Special)
Mahoromatic
Nanatsuiro Drops
This Ugly Yet Beautiful World
English Language Version
Recorded at:

Audio Post Services Provided By:
Role
Name
Other Work
Executive Producer
John O'Donnel

Angel Sanctuary (OAV)
Patlabor The Mobile Police
Shadow Star Narutaru
Treasure Hunter Jubei (Manga Publisher)

Producer
Stephanie Shalofsky

Now and Then, Here and There
Record of Lodoss War
Shadow Star Narutaru
Slayers

Associate Producer, ADR Director and Script Adaptation, Dubbing Supervisor
Tom Wayland

Angel Sanctuary (OAV)
Now and Then, Here and There
Tokyo Mew Mew

Dubbing Coordinator
Ross Lefko

Now and Then, Here and There
Shadow Star Narutaru

Translation
Kathleen Westlake

Ah! My Goddess: The Movie
Di Gi Charat Nyo
Zoids
Galaxy Angel A
DVD Production
var box = {}; window.addEvent('domready', function(){ box = new MultiBox('mb', {descClassName: 'multiBoxDesc', useOverlay: true}); });