Voice Actor Details
Skip to the English Language Version
Japanese Language Version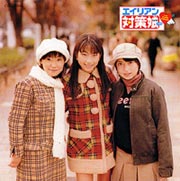 All the main actors were fairly young but one stands out from the rest in terms of age. Yuri's voice actor was really young when doing this series. Still in school even! She was born in 1987 and played a main character for Alien Nine which was released in 2001 so that would of made her 14 at the time or younger! Pretty amazing.
Some of the other actors are pretty prolific, such as Shimizu Kaori who also did Lain and Hisakawa Aya who did Skuld from Oh! My Goddess. They've all done some pretty key characters from anime history actually.
Click on a thumbnail image below to view the full image. Images are from the Alien Nine Bonus DVD. If you're interested in learning seeing more of the voice actors and their friendship during the filming of the show I recommend checking out the bonus Japanese DVD which contains a lot of footage of the trio together. The Store section has tips on purchasing it.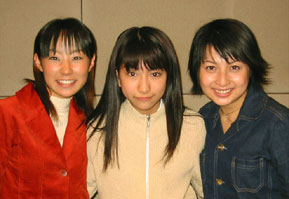 The voice actor for Yuri Otani.

The voice actor for Kumi Kawamura.

The voice actor for Kasumi Tomine.

The table below contains some information obtained from the Online Seiyuu Database before it died.
Character
Voice Actor
Other Roles
Otani Yuri
Ihata Juri

Lila from Najica
D.N.Angel (TV) as Misaki Nishizawa
Bakuto Sengen Daigunder (TV) as Haruka

Kawamura Kumi
Shimizu Kaori

Lain Iwakura from Serial Experiments Lain
School Rumble (TV) as Akira Takano
Fruits Basket (TV) as Minagawa Motoko

Tomine Kasumi
Shitaya Noriko

Mei from Tokyo Underground
Da Capo (TV) as Emi
Hamtaro (TV) as Sumire-chan
Tsutomu-kun, Kannaduki no Miko (TV) as Himeko Kurusegawa

Hisakawa Megumi
Hisakawa Aya

Skuld from Oh! My Goddess
Azumanga Daioh (TV) as Minamo "Nyamo" Kurosawa
Cardcaptor Sakura Series/Movies as Kerberos
Fruits Basket (TV) as Yuki Soma

Miyu Tamaki
Nakayama Sara

Riku Harada from D.N.Angel
Midori Chitose from Green Green
Female Heavy Blade from .hack//Legend Of The Twilight (TV)
Kuyou Senjyou from Yumeria (TV)

Bougu (Borg)
Nakao Ryuusei

Keel from King of Bandits Jing
Kurotsuchi Mayuri from Bleach
Gintama (TV) as Daraku
D.Gray-man (TV) as Eshi

Chisa Okada (Principal)
Sakuma Rei

Peorth from Oh! My Goddess
Miracle Girls (TV) as Rumiko Daijouji
Please Teacher! (TV) as Konoha Edajima
Ranma 1/2 Series/Movies as Shampoo

Yellow Knife
Akira Ishida

Hero from Persona 3
Jack Dawson from Titanic (Japanese version)

Announce
Kuryuu Miku
English Language Version
Character
Voice Actor
Other Roles
Otani Yuri
Kelly Ray

Teresa from The Shrieking
Madison from The Mill

Kawamura Kumi
Angora Deb

Akari Kamigishi from To Heart
Mika Seguchi from Gravitation
Rika Sena from Kare Kano

Tomine Kasumi
Zoe Fries

Excel from Excel Saga
Shiho Nagaoka from To Heart
Fam from Ruin Explorers
Mink from Dragon Half

Hisakawa Megumi
Veronica Taylor

Ash from Pokemon
Amelia from Slayers
Aoi Matsubara from To Heart

Miyu Tamaki
Rachael Lillis

Jessie from Pokemon
Ayaka Usami from Gravitation
Miyako Miyazawa from Kare Kano

Yuri's Borg
Joshua Popoenoe
Kumi's Borg
Jimmy Zoppi

James from Pokemon
Satori from One Piece
Vector from Bleach

Kasumi's Borg
Tristan Goddard

Kato from Angel Sanctuary

Chisa Okada (Principal)
Suzanne Savoy
Yellow Knife
Michael Alston Baley

Espio the Chameleon from Sonic X
Sir Crocodile and Mr. 0 from One Piece
Mosuke from Shaman King

Yuri's Mom
Lynna Dunham
Kasumi's Brother
Tom Wayland

Minimew from Tokyo Mew Mew

Hiroshi
Michael Sinterniklaas

Sobei from Samurai 7
Leo from Fullmetal Alchemist
Boodle from One Piece

Other Voices
Tim Werenko, Becca, Sharon Becker, Lisa Ortiz
var box = {}; window.addEvent('domready', function(){ box = new MultiBox('mb', {descClassName: 'multiBoxDesc', useOverlay: true}); });