Hi,
I'll try to answer some from what I can remember, though hopefully you can get the manga.
There is an auction on eBay right now for the "Collection" set, which is the anime DVD + the 3 main manga volumes in brand new condition. They have 3 sets available:
http://www.ebay.co.uk/itm/Alien-Nine-Ul ... 1c1db315d1
You can contact Repo about the rarer 4th/final book Emulators:
http://alien9.crossrealms.net/forum/vie ... 5&start=15
Quote:
Who or what is the Sunflower clan? Does anyone have an image of them? I'm thinking that they appeared in the manga but I don't recall what they looked like.
They're a rival alien clan to all other alien Clans (e.g. Drill/Borgs or Yellow Knife). But unlike the Drill Clan they're more aggressive. Drill Clan go through a lengthy process of "training" their hosts to be able to join with them. But the Sunflower Clan will try to join immediately even if it hurts or kills their host. They only want to consume things for their own benefit, though they make it seem like they are better than the Drill Clan through brainwashing their host. In the manga they're said to of destroyed everyone at Schools 2 and 6 before coming to School 9 where the main characters are.
I can only host a small number of manga scans on the main site due to copyright as a 'sampler' but one of the scans happen to be of the sunflower clan: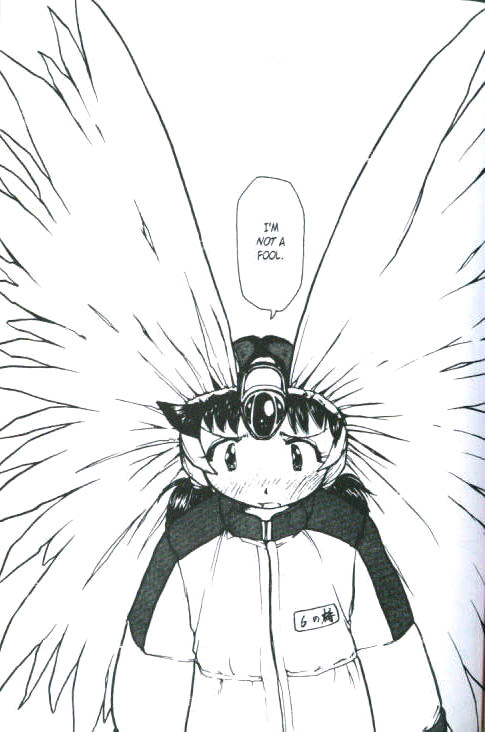 Quote:
Is the Drill clan just the borgs? Or anything that attacks with screws, like the Gladius too?
I don't know if it's mentioned if they're related. Though there are past generations of borg revealed in the 4th book Emulators. I don't have it to hand to check if maybe the Gladius are one of the past generation of Borgs (e.g. a really really early version). It isn't explained I think in the first 3 books unless I forgot.
Quote:
"It takes at least a year to have a body strong enough to live harmoniously with an alien, the Drill clan seems to use lower alien life forms to test the host and develop them so that they're strong enough to fuse." Where is the proof of this?
Book 3:
Teacher: "Living symbiotically isn't all that easy. The condition of the host, hereditary, and brain wave patterns can't be ignored. Otherwise communication will break down and the host could be injured. In severe cases the host could die. That's why it takes a year to develop a body strong enough to fuse with an alien. But... these sunflowers are aggressive. They don't think about the host.
Quote:
"They like humans as hosts because they produce plenty of energy and electricity. They're also very versatile." Did the aliens say this in the manga or is it just an opinion?
Book 3:
Teacher talking to Kumi (who is trying to come to terms with her new connection to her borg).
Kumi: "Why did humans choose to fuse with aliens?"
Teacher: "There has been no other choice. Since the first meteor fell to earth."
Kumi:"Why earth? Why?"
Teacher: "Humans produce LOTS of electricity. There are no other creatures as hearty."
It was probably my opinion that they also chose humans vs other earth inhabitants due to their potential versatility, such as with Kasumi and her varied skills. When the Yellow Knife talks to the teacher (and I guess the fused borg inside her) about Kasumi as its host (accompanied with pictures of Kasumi doing kicks etc.):
Teacher:"So how do you like occupying a human body?"
Yellow Knife: "It's the best! You guys make great hosts. You've got knowledge and coordination, especially Kasumi who functions just like you."
teacher:"That's because I was training her."
Yellow Knife:"We've all finally figured out what you're doing. This market is not for the Drill Clan alone"."
Quote:
"Some clans like the borg clan have gone through different stages of evolution called generations in an effort to adapt and become more efficient survivors." What are these stages and what do they look like?
They're shown in Emulators. Don't have it to hand at the moment (it's in a box somewhere). Ask Repo on the other thread for info on Emulators.
Quote:
"They're likened to aquatic creatures." What does that mean?
The author did an interview for the publishers and this was included in the first volumes. Some of the questions dealt with the design of the Borgs.
What kind of jobs did you have?
I worked at a technological company in their development and repair department.
Is that why the tentacles that extend from the Borg look like drills?
When I was working in electronics the company was manufacturing machinery. I used drills to manufacture panels and other items. I tend to draw familiar things.
Did you use anything as a reference for designing your aliens? It seemed like the aliens in Alien Nine were based on insects. Do you have an interest in biology and animals?
I like biology, so when I create aliens, I think about their home planet and environment. The aliens in Alien Nine were based on aquatic animals and amphibians. The aliens from Milk Closet are more similar to insects.
Quote:
"There was a certain scene (in Alien Nine: Emulators manga) where Kumi was supposedly fusing with Yuri." Does any one know what pages in which this happened? What does it mean by "Kumi was supposedly fusing with Yuri?" What was she doing? Anyone have images?
Hopefully Repo can help you about Emulators and you can check that part out.
Quote:
"Is there another person controlling Kasumi? It seems that after the Yellow Knife in Book 2 swallowed Kasumi, she appears to be someone else.
Kasumi is fused with a Yellow Knife. She's mostly controlled by that Yellow Knife." Isn't Yellow Knife dead? How does fusing work if the parent alien is dead? Is Yellow Knife living in Kasumi's body, or is she just influenced by Yellow Knife?
When Kasumi was inside the Yellow Knife for so long in that chamber the Yellow Knife I assume transferred some of itself into Kasumi. Before he lets go and moves on he says to Kasumi: "It's Okay Kasumi. As long as you're alive I'll survive too. Farewell." Then in the hospital her borg asks Kasumi if she is really Kasumi still. Later she uses the same sound wave thing the Yellow Knife do using her hair as coils. It seems like she lives symbiotically with both the Drill Clan and Yellow Knife at the same time. Though sometimes the Borg and Yellow Knife may be uncomfortable together, when it really matters she seems to utilise either depending on whats needed. The Drill Clan aren't happy with other clans moving in on their hard work but seem to try to tolerate the Yellow Knife. But when you see the manga you can draw your own conclusions.
Quote:
How can Kasumi have a borg, and a Yellow Knife? Can she form drills and horns with her hair? Or just the horns afterwards?
I think in the manga she doesn't use both at the same time, but been awhile since I read them fully. She does say at one point that for the sound attack to work effectively: "For power the important thing is the number of spirals". So maybe mixing in drills would dissipate the sound wrongly.
Quote:
What does the alien Lynax look like?
Lots of eyeballs.
Quote:
What does the eight generation of borgs look like?
Shown in Emulators.
Quote:
If the last borgs were the eight generation, wouldn't the current borgs be the ninth borgs, or aliens? Thus the name Alien 9 for the anime/manga?
Yeah, I don't think the author said it anywhere officially but my theory is at the top of the FAQ:
http://alien9.crossrealms.net/info_questions.php#q1
Quote:
Does the manga ever actually say drill clan, sunflower clan, or yellow knife clan? Or has this concept been established by fans?
Yep the manga says these.
Good luck with your manga.