Ok, here.
Kumi: Waiting, ever vigilant, knowing that they were after her, but this bounty hunter wasn't about to get beaten by those revolting space pirates.
Kumi's Borg: Kumi are you pretending to be Samus Aran again?
Kumi: Of course not,...Metroids just around the corner she prepares to fight.
Kumi's Borg: You play that Metroid game to much Kumi.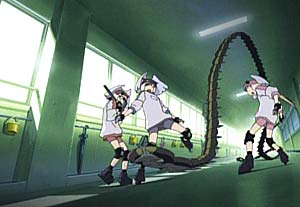 Alien: Excuse me, coming through, out of my way!
Kasumi: The tourists get weirder every year.